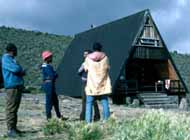 I was exhausted in school the next morning. Amir rubbed his head like it hurt him and Lizzie had dark smudges under her eyes. I didn't feel so good myself.

We whispered quickly to each other 'I dreamed I saw you on the mountain ... Was it real? ... You too?'

Then it was time for class and I had to start again.

'On Kilimanjaro,' I said 'trekkers often stay at the second hut, Horombo at 3,720 meters, for two nights to get used to the altitude. Some people start to get headaches, and if it's very bad you have to go down again quickly.' Amir grimaced.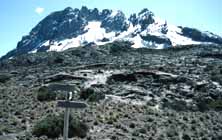 'It's because there's less oxygen in the air high up. You have to walk slowly so your body can replace what it uses. Most airplanes don't fly even as high as the top of Kibo and they add oxygen in their cabins.'
'I bet if you're fit you don't have problems with altitude sickness' said Lizzie, who wins swimming competitions.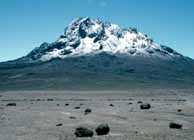 'When I researched high altitudes, I read that fitness helps but some people get sick anyway. They try to walk too fast or they're just unlucky.'

'You move on up the valley to the bottom of Mawenzi crater - you can see it here, without clouds for once.'

'Old Mawenzi sure looks jagged' said Amir.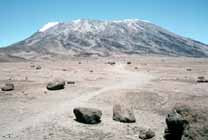 'Sure does. Past Mawenzi, there's a volcanic plain between the two brothers. You cross it to get to Kibo Hut. That's at 4703 metres, just under Kibo crater. The next part is very hard. Everyone has an early meal and goes to bed at 6 o'clock, to be ready to go on at midnight.' I took a break and got some water. Today I just couldn't stop drinking.