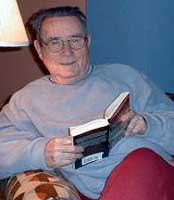 Wesley Williamson (1921-2003)
BookLoons Reviewer

I am an antediluvian relic of the Dark Ages B.C. (Before Computers). Educated as a Civil Engineer, I worked in Ireland, England, Malaya, Nigeria and Quebec before taking root in Toronto, Canada.

I have been reading voraciously and indiscriminately for seventy five years, but the older I get, unfortunately, the less patience I have with poor or careless writing - as you may have noticed from my reviews.

However, I still get great pleasure from re-reading my favourite authors, still look forward eagerly to their new books, and still start books by writers new to me with eagerness and optimism.

Editor's Note: Wesley died October 1st, 2003 and will be greatly missed by all his family, who were comforted by the fact that he was able to enjoy reading until very close to the end.
---
Note: Opinions expressed in reviews and articles on this site are those of the author(s) and not necessarily those of BookLoons.
---