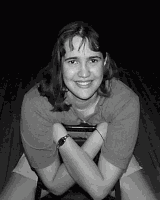 Ricki Marking-Camuto
BookLoons Reviewer

I have been a book enthusiast ever since I was little, often forcing my parents to read me five books a night before I would go to bed. Since I learned how to read on my own, I have never stopped, and read every chance I get.

I graduated in 2003 with a Masters of Fine Arts in Theatre, with an emphasis in Directing. I am the Arts Coordinator for the West County Family Branch of the YMCA of Greater St. Louis, where I direct the majority of the plays at the Chesterfield Community Theatre. I can be reached at rickimc@aol.com.
---
Note: Opinions expressed in reviews and articles on this site are those of the author(s) and not necessarily those of BookLoons.
---