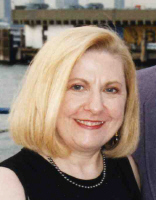 Josephine Anna Kaszuba Locke
BookLoons Reviewer

Sto Lat - (May you live) a hundred years
(included in a Polish song for celebrating name days (in Poland vs. birth dates); also sung at parting events, weddings, and special occasions.)

I am the youngest in a Polish family of five boys and five girls. I was raised in West Rutland, Vermont. My parents Mama Kamylla (Dombrowski) and Tata Czeslaw Kaszuba immigrated from Poland through Ellis Island. My sisters' names are Helen (Helena), Mary (Maria), Theresa (Teresa) and Julia (Julcia). My name in Polish is Jozefa; brothers' names are Charles (Czeslaw), Joseph (Jozef), Stanley (Stanislaw), Alexander (Aleksander) and Valentine (Walenty). In 1999 my spouse Wayne and I traveled to explore my ancestral roots, resulting in two glorious weeks hosted by two families related to each other with residence in Warszawa. This blessing came via what I refer to as not-a-coincidence but a meant-to-be meeting of two female cousins (Agnieszka Kwiatkowska and Malgorzata Pawlak) during a tour of Madison Square Garden, Manhattan in 1995.

I am an avid reader and self-professed biblioholic, enjoying all genres, though favoring some more than others. I also enjoy writing - at present, essay-form memoirs published on the Net; waiting for that break of a first article in paper print to hold in my hands!

In 1986 I earned my Bachelor's Degree in General Studies at the University of New Hampshire, completed over a period of years, beginning with two years of college life, and later evening courses.

My spouse and I are survivors of the 9/11 World Trade Center Towers tragedy. We now reside in New Hampshire, though we did not move from Lower West Side Manhattan to flee 9/11. We miss Manhattan with the New Jersey shoreline across the Hudson River, the Lady of Liberty Island/Ellis Island in our backyard, and the luxury of abundant book-signing events in the City. I treasured the opportunities to meet so many authors, have books signed with a personalized autograph, and photos taken in remembrance of these meetings.

At home I have hundreds of tomes, not only on shelves but in nooks & crannies, under and around the bed, and in puddles here and there ... after all, a reader can never possess enough books! 'A room without books is like a body without a soul.' (Cicero)

Along with five children - Bradford, Kim, Cheryl, Bobby and Russell, we have four active grandchildren - Katie, Abby, Hunter and Steven residing within close proximity of our New Hampshire apartment complex.

Na zdrowie (to your health)!

---
Note: Opinions expressed in reviews and articles on this site are those of the author(s) and not necessarily those of BookLoons.
---