Jessica Weaver
BookLoons Reviewer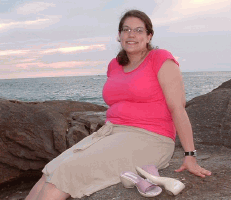 Jessica Weaver is a 2004 graduate of the University of Richmond with a B.A. in English and a minor in Chinese. She learned to read as a four-year-old and has had her nose in a book ever since. Switching majors several times at school, she found that English was the only thing that kept her interested. She is currently employed as a copy editor at a Christian publisher, where she works on Bible study material.

Jessica lives with her husband and cocker spaniel in Nashville, Tennessee, where they enjoy being heavily involved in their church, taking the dog to the park, and decorating their new home (when Jessica can stop reading for long enough to do so). She enjoys reading just about anything, but especially loves chick lit, Christian fiction, and literary fiction. Her favorite books include One Hundred Years of Solitude by Gabriel Garcia-Marquez, Saint Maybe by Anne Tyler, and Sophie's Heart by Lori Wick.
---
Note: Opinions expressed in reviews and articles on this site are those of the author(s) and not necessarily those of BookLoons.
---