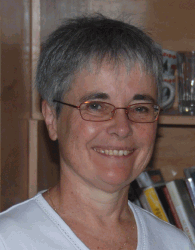 Hilary Williamson
Managing Editor

Ciad mmle failte romhait, which means A hundred thousand welcomes and is the limit of my Gaelic, despite a childhood in Ireland. I now live in Canada with my husband and two sons.

I took my M. Math degree in Computer Science at the University of Waterloo and subsequently spent 15 years in telecommunications R&D, managing both ergonomics and software development groups. My favorite winter occupation was to curl up by the fireside with a good book. In the summer, I swung in a hammock with a good book. At every opportunity, I traveled around the world, and especially enjoyed high altitude hiking in the Himalayas and in Africa.

I used to interrupt my reading for martial arts training (at the Montreal West Island Dojo and the Kyokushin Ottawa Goudreault Dojo). I still swim, kayak and paddle board in the summer, and snowshoe in the winter. I take Celtic/lever harp lessons from a wonderful teacher - if you're a musician, check out her site, Joanne Griffin Music. And I play in an amateur ensemble, Celtic Knot Harpists.

I have been accused of being an omnivorous reader, though my particular favorites are speculative fiction and mysteries. I launched this venture, in order to share my love of books with others, and to help people connect to the books they want to read, in the digital age. I hope that you enjoy it here and that you return to visit often.

Publications:


G. Millard, H. Williamson, "How people react to computer conferencing", BNR Telesis (3), 1976.
H. Williamson, S. Rohlfs, "The User Interface Design Process", Proc. IFIP TC-6 International Symposium on Computer Message Systems, Ottawa, Canada, April 1981.
(Reprinted in Tutorial on Software Design Techniques, IEEE Computer Society Press 1984)
R. Begbie, I. Cunningham, H. Williamson, "iNet: the Intelligent Network", Proc. 6th International Conference on Computer Communications, September 1982.
A. Murdock, R. Sells, H. Williamson, "Searching out services with the gateway directory", BNR Telesis (10), 1983.
L. Lee, T. Purdy, H. Williamson, "Meridian SL Information Services", Telesis (2), 1985.
H. Williamson, "What If My Bus Doesn't Come?", finalist in Writer's Union of Canada Writing for Children Competition , 1999.
The Magic Pumpkin by Hilary Williamson, illustrated by Lynne Adams, ISBN: 978-1-4357-0321-6
---
Note: Opinions expressed in reviews and articles on this site are those of the author(s) and not necessarily those of BookLoons.
---