Ears to Christmas!
(December 2004) by David Pitt
---
When I heard that someone had gone out and commissioned a writer to do a sequel to Mario Puzo's The Godfather, I thought: Give me a break. What a cheap stunt. I thought about other sequels to popular novels, like the ridiculous follow-up to Gone With the Wind, whose title, thankfully, escapes me for the moment. (I could look it up, but why bother? It stunk anyway.) I figured it was probably going to be rotten.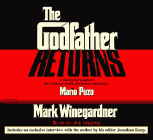 Oh boy was I wrong. The Godfather Returns (Random House Audio, 6 hrs.), written by Mark Winegardner, is a splendid novel, as rich and imperial and massively entertaining as Puzo's classic. Not only does Winegardner fill in the gaps in the chronology of the Corleone family -- the novel covers the periods that aren't covered in Puzo's novel, or in Francis Ford Coppola's films -- he expands the story, broadens its scope and deepens its mythology. Instead of cheapening the memory of The Godfather, Windegardner embraces it, celebrates it, and invites us to immerse ourselves all over again in this wonderful saga. This audio version, nicely performed by Joe Grifasi, is abridged, but so expertly that you'll never notice where material was snipped out.

I generally prefer unabridged audio books, which is one of many reasons why I was excited about The Stupidest Angel (Harper Audio, 6 hrs.), written by Christopher Moore and performed by Tony Roberts. Moore, the author of such off-kilter novels as Fluke and Bloodsucking Fiends, has a knack for creating off-beat characters who are simultaneously way out in left field and entirely believable, and here he collects a bunch of people he created for other novels and puts them in (to quote the subtitle) 'a heartwarming tale of Christmas terror.' It's about love, and lust, and hatred, and fear, and, oh, a little boy who thinks he's seen Santa being murdered. And the Archangel Raziel, heaven's stupidest angel, who can't even carry out a simple wish-granting assignment without making a mess of it. Yuletide wackiness, from start to finish.



Villages (Random House Audio, 10 hrs.), John Updike's new novel, is also unabridged, and that's a very good thing. Updike's prose is so smooth, every word of it so carefully chosen, that I honestly can't imagine cutting out bits of it without damaging the whole. The novel follows its lead character, Owen Mackenzie, from his birth in rural Pennsylvania, right through to his retirement, in small-town Massachusetts. Along the way he encounters a variety of people who touch him in various ways, founds an early computer-software company, and sees the world change in ways so vast that they boggle the imagination. A subtle, thoughtful novel that requires a subtle, thoughtful narrator. Luckily, Edward Hermann is more than equal to the task.

England, 1946. British servicemen are returning home after World War Two, only to find their country nearly destitute, plagued by food shortages, housing shortages, and a general air of futility. Homeland (Macmillan Audio Books, 4.5 hrs.), by Clare Francis, is a sharp, insightful portrait of post-war Britain, as seen through the eyes of people like veteran Billy Greer; Stella, a schoolteacher; and Wladislaw, a young Polish man far away from home. The story itself is provocative, and the performance, by Simon Russell Beale, gives it the emotional oomph it needs.



Quicksilver (Harper Audio, 24 hrs.), written by the remarkable Neal Stephenson, is the first part of the Baroque Cycle, a massive three-volume epic set during the Baroque period (roughly 1600 to 1750). Mixing real and fictional characters, and set against a backdrop of incredible intellectual, political, and artistic change, the whole series is magnificent, and after you've listened to Quicksilver, wonderfully performed by Simon Prebble and Stina Nielsen, you'll be itchin' to keep right on going with the next two volumes. This is one of the most ambitious pieces of historical fiction I've ever encountered, and it's downright brilliant.

One of the Baroque period's most famous citizens was Samuel Pepys, whose diary is a classic of English literature. Pepys was not simply a diarist; he was a documentarian, a social commentator, an observer of the English people and the city, London, in which they lived. The Diary of Samuel Pepys, Volume One: 1660-1663 (Hodder Headline Audiobooks, 3 hrs.) is narrated by Kenneth Branagh, an actor who's played a wide variety of roles, from Dr. Frankenstein to Henry V to the villain in the wretched Wild Wild West movie (let's forget that one, shall we?). Here he brings all of his formidable oratorical gifts to the job, and the result is a marvellous tour through historical London, so vividly narrated that you'll think you can actually hear, smell, and taste the history.
---
Note: Opinions expressed in reviews and articles on this site are those of the author(s) and not necessarily those of BookLoons.
---