Listen Up! It's Summer!
(June 2003)
By David Pitt
---
Here's the problem: you're going on summer vacation, you've got a long drive ahead of you, and what do you do to relieve the boredom? You can't read a book while you're driving ... well, okay, you can, but you probably shouldn't. But you can listen to one. Here's a whopping big pile o' audiobooks to get you through.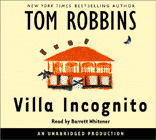 Villa Incognito (Random House Audio, approx. 7 3/4 hrs.) is the unabridged audio production of Tom Robbins's new novel. Performed by Barrett Whitener, it's the story of American soldiers who were missing in action during the Vietnam War and who, inexplicably, have chosen to remain MIA. But, because this is Robbins we're talking about, the story is much weirder than that: it also features a family whose women have an unusual bond with a character from Japanese mythology. To say any more would ruin the surprise, to let's move right along.

The Kingmaker (TimeWarner AudioBooks, 6 hrs.), by Brian Haig, finds JAG attorney Sean Drummond defending a general accused of treason. Like his previous novels, this one features a fast-paced story with plenty of danger, and the performance, by veteran audiobook narrator John Rubenstein, is top-notch.

Speaking of John Rubenstein -- or, should I say, listening to him -- here's A Cold Heart (Random House Audio, 6 hrs.), an Alex Delaware thriller by Jonathan Kellerman. This time out, the psychologist-turned-sleuth goes up against a suspected serial killer. Once again, Rubenstein turns in a masterful performance that captures all the nuances of Kellerman's narrative.

Dirty Work (Putnam Berkley Audio, 6 hrs.) is the new Stone Barrington novel by Stuart Woods. Barrington, a former police officer who's now a lawyer, is assigned a tricky case: one of his firm's clients want to divorce her unfaithful husband, but both parties apparently have an enormous amount of secrets, some of which may involve international intelligence agencies. As usual, Barrington relies equally on his wits and his charisma, and the subtle performance by Tony Roberts is splendid.

If you're a fan of British mystery author Minette Walters, you'll want to pick up The Scold's Bridle (Macmillan Audio Books, 3 hrs.), performed by Geraldine James. A woman is dead, an apparent suicide ... but what about the torture mask, the scold's bridle, adorning her face? What really happened to the victim? Walters writes mysteries that delve deep into the nastier parts of the human mind, and this one is creepily good.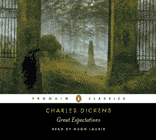 From creepily good to magnificently entertaining, you have got to listen to Great Expectations (Penguin AudioBooks, 3 hrs.), Charles Dickens's novel about a young boy, an aging bride-to-be, and an escaped convict. It's narrated by Hugh Laurie, the wonderful British actor-comedian. (He was Bertie Wooster, in the delightful Jeeves and Wooster television series; he also appeared in one of the Blackadder series, as Prince George.) It's always a pleasure to soak up a Hugh Laurie performance, and when you combine his talent with the brilliant material, how can you possibly lose?

On the subject of brilliant material, here's a boxed set of audiobooks based on novels by Agatha Christie, all from Macmillan Audio Books, and all with a running time of three hours. You get The Murder of Roger Ackroyd, performed by Nigel Anthony; The ABC Murders, performed by Hugh Fraser; and -- my favourite of the three -- Murder on the Orient Express, performed by Andrew Sachs. Sachs, who played Manuel on the classic British sitcom Fawlty Towers ('I am from Barcelona'), is a gifted actor, and his reading of this Christie classic is perfect.

If you like short fiction, we have something for you, too: The John Cheever Audio Collection (Caedmon, 6 1/2 hrs.). You get twelve stories, all of them unabridged, read by Meryl Streep, Blythe Danner, Peter Gallagher, George Plimpton, and Edward Herrmann. In a rare treat, two of the stories are performed by Cheever himself. Cheever, who died in 1982, was a master of the short story, and this audio collection showcases his immense talent.

If you're in the mood for nonfiction, we've got you covered. General Ike: A Personal Reminiscence (Simon & Schuster Audio, 6 hrs.) is written by the former president's son, John S.D. Eisenhower. Focussing primarily on Ike's military career, the book is detailed, fascinating, and beautifully written. The performance, by Edward Herrmann, is excellent, too.



Krakatoa (Harper Audio, 12 hrs.), written and read by Simon Winchester, chronicles the 1883 volcanic eruption that destroyed the island of Krakatoa, and its wide-ranging effects (both environmental and historical) on the rest of the world. Like Winchester's previous books, The Professor and the Madman and The Map that Changed the World, the book is well researched and engagingly written.

For all the golfers in the crowd, here's Who's Your Caddy? (Random House Audio, 6 hrs.), by sportswriter Rick Reilly. Reilly, who knew next to nothing about playing golf, decided to learn the game by caddying for some of the game's stars: David Duval, John Daly, people like that. It's a fun adventure, and the performance by Grover Gardner captures the book's impishness perfectly.

If you followed the collapse of Enron in the news, you might want to check out Power Failure: The Inside Story of the Collapse of Enron (Random House Audio, 6 hrs.), written by business journalist Mimi Swartz with Sherron Watkins, a former vice-president at the company. The book, which shows us the company's spectacular fall from the inside, offers a wealth of information that never made it into those front-page stories, and it's one of those business books that keeps you glued to your seat, unable to believe this stuff could actually have happened. Stage and television actor Henry Leyva narrates.

I talked about these two in the science-books portion of the summer reading extravaganza, but they're well worth snatching up on audio, too: Bill Bryson's A Short History of Everything (Random House Audio, 6 hrs.), and DNA: The Secret of Life (Random House Audio, 6 hrs.), by James D. Watson with Andrew Berry. Bryson narrates his exploration of some of science's biggest ideas, and he's always a joy to listen to. DNA is narrated by Bill Meisle, who makes this history of DNA and genetics sound as exciting as Watson and Berry have written it.



Finally, for the kids (oh, heck, and the adults, too), we have two audio adaptations of novels by Laura Ingalls Wilder, better known as the lady who wrote about that little house on the prairie. Little House in the Big Woods and On the Banks of Plum Creek, both available from Harper Children's Audio (at 3 1/2 and 6 hrs., respectively), are performed by Cherry Jones, a Tony Award-winning stage actress. The books describe the early years in the life of Laura Ingalls, and they are downright charming. Your kids (and you, too), will love 'em.
---
Note: Opinions expressed in reviews and articles on this site are those of the author(s) and not necessarily those of BookLoons.
---