Tarah Schaeffer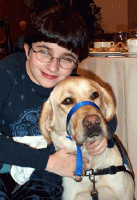 Past BookLoons Reviewer

I have always loved reading. It has been a great escape from the trials of my life. I was born with a brittle bone disease called OI or Osteogenisis Imperfecta, so I spent a lot of the first decade of my life in casts, with nothing to do but read. I still read a lot, mostly in the contemporary fiction genre, because I like to imagine myself as those characters.

I am a junior in college, working towards a degree in professional writing, which I hope to do some day. My dream is to become a book reviewer full time, whether that be freelance or working for a publication. Happy Reading!
---
Note: Opinions expressed in reviews and articles on this site are those of the author(s) and not necessarily those of BookLoons.
---