Sammy's Shelf
August 2015:
Be careful what you wish for ...
---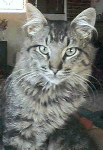 I was poking around my person's huge pile of review books and came across Templeton Gets His Wish (Hyperion/Disney, ISBN: 9781484712740) by Greg Pizzoli. Since there was a cat on the cover I decided to check it out.

This picture book is about a cat named Templeton who's a tad fed up with his family. Both his Mom and Dad are always grumpy and cranky while his little brother is a pain in the butt. So Templeton does something bad. He takes his brother's piggy bank and uses the money to purchase a magic device that makes his entire family disappear.

Wow, what a concept! Surprisingly, it works too! In the blink of an eye Templeton has the whole house to himself. No one is there to tell him what to do or use his toys. Now how cool is that?

Well, as you can imagine this empty house begins to get on the kitty's nerves. It's lonely. Eventually Templeton uses his special device to reverse the spell and the silly cat is happy to have his family back.



Obviously this story has a simple moral - be careful what you wish for because you might get it and not be happy! I don't think that has ever happened to me. I mean, the things I wish for seldom happen. In fact, now that I think about it the ONLY THING I wish for is being allowed to go outside.

Actually that happens once in a great while. With my person's supervision I am let out to explore and usually I am able to sneak off and find some tall grass to nibble on. I love grass because it settles my tummy and tastes good. Unfortunately, every time I eat grass I throw up. Now that's not really a good thing and it makes my person a bit irate too.

I guess I am a bit like Templeton because when I do get my wish, it doesn't turn out particularly well. But, that's OK with me! I'm still going to stand at the door and meow to go out because you can't beat a little bit of grass to settle an upset stomach, plus there are some really splendid smells in the backyard to sniff!
---
Sammy shares living quarters with Bob Walch. Not only does Bob provide the basic essentials for this loquacious feline but he occasionally offers editorial assistance. Find more of the Maine Coon's musings at CoastTraveler.com.
---
Note: Opinions expressed in reviews and articles on this site are those of the author(s) and not necessarily those of BookLoons.
---