Mary Ann Smyth
BookLoons Reviewer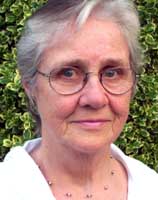 The greatest thrill of my young life was to acquire my very own library card. It is still a privilege that I prize highly. Reading is a very big part of my existence and I get nervous if I don't have at least three or four books waiting in line. About eight years ago, I started to do some writing of my own. I have finished two cozy mysteries and two young adult mysteries. As yet my books have not found publishers, but my stories have sold; even one in England.

I love to travel and have been to some of the more exotic spots in the world. I have two daughters, sons-in-law that I adore and six grandchildren who are the very reason for my existence. I have been able to take some of the older ones on trips. It's wonderful to see the world through their young eyes. We've watched the sun rise over Istanbul from the sea, stood on the Cliffs of Moher on the west coast of Ireland as the sea pounded below us, viewed the ruins of the great library at Ephesus, and have more to come.

I also travel on my own and have watched a sunset over the Serengheti, snorkeled in the Indian Ocean off Zanzibar, walked around the base of the Pyramids in Giza, rode a horse drawn cart through the narrow divide in the rock wall to view Petra, snorkeled in the Galapagos, climbed to Machu Pichu, and paddled in a native canoe to fish for piranha on the Amazon.

I've watched the ballet in Russia and viewed the treasures of the Hermitage, got a henna tattoo in Stockholm, attended a performance of Cats on the London stage, watched the tidal bore on the Bay of Fundy, and look forward to much more. Have passport, will travel.
---
Note: Opinions expressed in reviews and articles on this site are those of the author(s) and not necessarily those of BookLoons.
---