A Very Bunny Easter
by Hilary Williamson (updated Apr 2011)
'And while I was still for the time to pass,
A little gray thing came out of the grass ...
He sat down close where I could see,
And his big still eyes looked hard at me.'
(from The Rabbit by Elizabeth Maddox Roberts in The Beauty of the Beast)
---


Easter and spring conjure up for little ones images of soft fur to stroke and small, shy creatures to wonder at, in particular yellow chicks and gray rabbits ... and the Easter Bunny, source of treats to satisfy the sweetest tooth. Here's a selection of picture books to read with children who are anticipating bunnies and baskets and bonnets, egg painting and egg hunts, and all the myriad of spring delights in store:


The A to Z of Everyday Things by Janice Weaver & Francis Blake
Tells surprising tales behind ordinary things, including the Easter bunny.

Arthur's Jelly Beans by Marc Brown
Will Arthur win that huge solid chocolate egg at the Spring Fling party?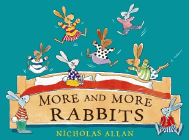 Bunny Money by Stephen Krensky & Emily Bolan
Four little bunnies learn how to count money.

Candy Construction by Sharon Bowers
'Edible Crafts' for holidays & other occasions.

Easter Parade by Irving Berlin & Lisa McCue
Classic song and exceptional illustrations convey the essence of Easter.

The Easter Party by Lucy Su
A sweet story of friendship, painted in spring pastels.



Good Night Little Bunny by Emily Hawkins & John Butler
'A Changing-Picture Book' about a bunny afraid of the dark.

Grandpa Bunny by Golden Books
Classic adapted from the motion picture Funny Little Bunnies.

A House Rabbit Primer by Lucile C. Moore
All about 'Understanding and Caring for Your Companion Rabbit'.

Little Skills: Box Set by Tanya Napier & Airlie Anderson
A little rabbit encourage growing independence in very small children.



More and More Rabbits by Nicholas Allan
Mr. and Mrs. Tail's bunny family just keep on growing ...

Queen of Easter by Mary Engelbreit
Ann Estelle shows 'The Very Best Easter Hat Ever!'.

Quiet Bunny by Lisa McCue
Quiet Bunny discovers that everyone is special in their own way.

Runny Babbit: A Billy Sook by Shel Silverstein
Tells the story of a babbit in spoonerism-sprinkled verses.
Listen to an Audio Clip and see if it makes sense to you!



The Story of the Easter Bunny by Katherine Tegen & Sally Anne Lambert
How it came about that 'the Easter Bunny delivers his baskets.'

Tippy-Tippy-Tippy, Hide! by Candace Fleming & Brian Karas
3 chilled rabbits use all their ingenuity to get into Mr. McGreely's warm house.

The Toys' Easter Surprise illustrated by Susanna Ronchi
A glittering spring cornucopia - Easter Bunny, toys & chocolates.

Our Twitchy by Kes Gray & Mary McQuillan
An adorable little bunny notices his parents aren't exactly like him.



Wee Little Bunny by Lauren Thompson & John Butler
Follow the antics of this hyperactive little rabbit.

When the World Was Waiting for You by Gillian Shields & Anna Currey
The rabbit family is awaiting a new arrival.

Which Would You Rather Be? by William Steig & Harry Bliss
A bunny magician pulls choices out of a magical top hat.

The Wonder of Easter by Naomi Kleinberg & Samuel J. Butcher
Explores the wonder of the holiday in verse and soft pastel illustrations.

I wish you a very bunny Easter, and hope the Runny Babbit is good to all your wee ones!
---
Note: Opinions expressed in reviews and articles on this site are those of the author(s) and not necessarily those of BookLoons.
---