Between the Panels: Influence and Inspiration
By Lance Victor Eaton (January 2007)
---
Some names instantly spring to mind when one considers inspiration and influence within the world of comic books. Will Eisner, Jack Kirby, Art Spigelman, Stan Lee, Frank Miller, Alan Moore and others immediately invoke certain aesthetic and narrative styles that have influenced hundreds of artists over the years. While their brilliance and work should not be underrated, other artists have contributed greatly in both direct and indirect ways, though their names are hardly ever mentioned.



As one slowly flips through the pages of Franklin Booth: American Illustrator, the silent and sober mood produced in the halls of a museum overwhelms the reader. A profile picture greets readers as they first open the book followed by a foreword that explains publishing history surrounding Booth's works and why this book will not provide any context beyond Booth's biography. The biography (a eulogy of sorts read by Howard C. Caldwell at an Indianapolic Literary Club meeting in April, 1950) provides a concise snapshot of who Booth was, letting readers continue on into his gallery without unnecessary words.

Now Booth may have never drawn a super-hero or even picked up a comic book, but his prevalence as illustrator in the first half of the twentieth century no doubt would have impressed itself upon the minds of many artists. His range of illustrations remains impressive and reveals a creativity unhindered by the strict discipline his work demanded. In many of his works, readers may find themselves lost within the many etched lines that cover each canvass. Many works contain hundreds if not thousands of singular lines mapped onto the advertisement, postcard, stationery or whatever he may be drawing.

Words are speckled throughout these pages including several quotes from people on Booth, subtitles or text to a piece, but most interesting is that Auad has removed the text of many of the advertisements so readers only see the style and not the context. The last fifteen plates in this collection are colored so readers understand how some of his work would aethetically change. Incidentally, the black and white drawings elicit more complexity and interest than his colored pieces.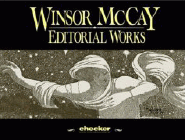 Winsor McCay: Editorial Works, on the other hand, contains lots of brief explanations about each editorial cartoon while providing very little about the author. His editorial cartoons also include the day, month, and year in which they were published, usually in the New York American. His works illustrate the many great debates, problems, and concerns for the United States during the 1910s; ironically, many of them are still prevalent today.

Here again, McCay uses a decent amount of linear pictures but nothing as extensive as Booth. Plenty of white can be found on many of his cartoons. But unlike Booth, McCay includes action and implies movement while Booth's drawings were snapshots of a particular moment. Additionally, in some of his cartoons, McCay adds the classic speaking bubble for his characters to come to life and speak. The speaking bubble or the idea of a person speaking in a cartoon adds the complexity of self (as in the character) definition. The only question one has after reading through this book is trying to understand the editor's rationale in the order of the editorial cartoons. They don't appear in chronological or topical order, so readers are left questioning the method to the madness.

By contrast, Wally's World: The Brilliant Life and Tragic Death of Wally Wood, The World's Second-Best Comic Artist contains many words and even chapters that bring readers through the tumultuous life of an influential, albeit unfamiliar artist in the comic book world. Those who have only been reading for the last twenty five years are not likely to be familiar with Wally Wood. His untimely and suspicious death in 1981 ended a decades-spanning career that included work for Marvel Comics, the controversial E.C. Comics, and many other publishers.



This book does a brilliant job of making Wood a real person to readers who have just learned of him. Loaded on virtually every page are hundreds of panels and comic book covers presenting an impressive range of talent from the mundane to the devilish. The authors also saw fit to include a color gallery with over twenty pages of covers, panels, and pictures by Wood that readers will find themselves flipping through again and again. The only major drawback of the book is the use of double columns of text throughout. While in large overbearing textbooks, double columns are efficient and useful, the five (or so) inch width of this book doesn't require such efforts.

The authors' subtitle, The World's Second-Best Comic Book Artist, is an attempt to bring to mind how the competitive nature of the comic book industry continually wants to create a pantheon of god-like artists who single-handedly define the medium. Whether Wood is the second-best or just one of many influential artists, he and others like him should be appreciated and recognized for their work and dedication to the medium. It's from that premise that this article has stemmed.

The Modern Masters series provides great in-depth profiles of some of the comic industry's most dynamic and interesting artists. Now, rather than just presenting this information in a static manner such as a summarized set of facts about the artist as one might find on a dating website, TwoMorrows Publishing presents the material in the manner in which it was gathered. Thus, each chapter represents a conversation between the artist and the interviewer on a particular aspect of his or her work such as inspiration, style, personal work history, and the like. Throughout each book, preliminary sketches and panels as well as finished ones can be found on almost every page. Of course, these are just a mere warm up for the artist gallery at the end of each book where readers can salivate over often full page drawings by the artists.



Modern Masters Volume 9 delves headfirst into the works of Mike Wieringo who has worked on some of the big names such as Fantastic Four and Spiderman but also the cult-favorite, Tellos. With an introduction by Todd Dezago and a brief comment by Mark Waid, the book dives into the life and work of Wieringo, including some amusing childhood drawings and several pages of colored drawings.

Modern Masters Volume 10 introduces readers to Kevin Maguire, another talented artist in the field who has worked on the Justice League, Captain America, as well as independent projects. Again, the authors give it a solid treatment with lots of interesting and thoughtful questions, evoking answers that give greater insight into Maguire's works.

Influence can be a pernicious thing to measure, observe, or identify. Regardless of whether these artists' influence can be traced, they all exhibit talent and wisdom within their work that any aspiring artist or fan of the medium would do well to absorb.
---
Note: Opinions expressed in reviews and articles on this site are those of the author(s) and not necessarily those of BookLoons.
---